Pharmedix®
Manual Dispensing Record Keeping and Inventory Control for Your Pharmedix Medications
Pharmedix® offers a base easy-to-use manual dispensing system. Pharmedix® provides an integrated dispensing system, not just bottles of pills and a sheet of stickers as many of our competitors do. The Pharmedix® prescription label is fully-customized. We don't just put your clinic name on the label we allow you to indicate custom SIGs (English and Spanish option available), custom retail prices, and pre-print up to 4 prescriber names on the prescription label.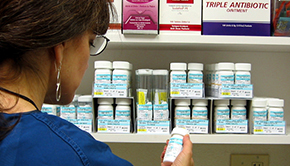 The Benefits of In-office Dispensing
The three C's of In-Office Prescription Dispensing
Read more...